PRESS RELEASE: DRIVE PRODUCTS GROWING IN LAVAL, QC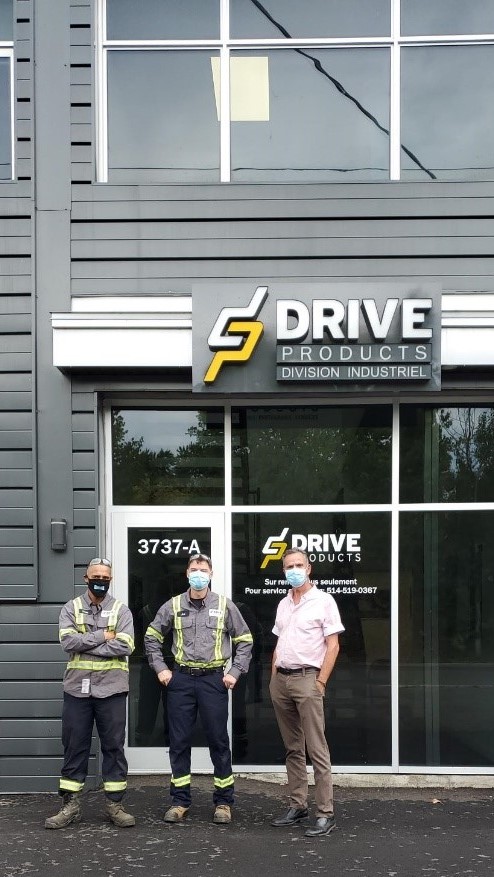 We are excited to announce the opening of our new Industrial Driveline facility in Laval.
This new facility covers over 6000 sq. ft. of shop space, with additional office space and a viewing room that overlooks the shop floor. With the support of an overhead 5 ton crane, our Industrial Driveline team is eager to work in this new facility.
Laval is familiar territory for us as the new Industrial Driveline location is next to our GW Anglin/Amtech Upfitting Facility.
For full details, please click here to read the Full Press Release
PRESS RELEASE: DRIVE PRODUCTS NOW OPEN IN WINNIPEG, MANITOBA
Drive Products is now open for business in Winnipeg, Manitoba.
We first announced a Winnipeg branch back in the spring.
In that time, our team in Manitoba has been working hard to establish our new branch location in the province. 
For full details, please click here to read the Full Press Release
PRESS RELEASE: DRIVE PRODUCTS ANNOUNCES TWO NEW LOCATIONS IN ATLANTIC CANADA AND WISCONSIN, USA
Drive Products is pleased to announce the addition of two new locations.

Drive Products Newfoundland is our newest branch location - being built in St. John's, Newfoundland.

The acquisition of Elkhorn Driveshaft Company in Wisconsin, USA.

For full details, please click here to read the Full Press Release
Copy
UPDATE – VOTH'S WESTERN MANUFACTURING NOW PLANNED FOR MORDEN, MANITOBA
In February we announced that our manufacturing division Voth would be expanding its operations in Western Canada. Originally planned for the city of Regina, we are now breaking grounds in Morden, Manitoba due to strategic purposes. Drive Products Regina will continue its growth consistent with all our branches in delivering Upfitting and Distribution services.
Meanwhile in Morden, we will be building a brand new "Voth West" manufacturing facility that will produce a mix of truck bodies and truck mounted equipment to support the strong demand in Canada's Western Markets. In addition, this will create more manufacturing capacity to support our continued growth and expectations for the future.  We are very excited to serve and contribute to city of Morden. We will provide more updates as the project moves forward.
See you soon!
Click here for the: Official Press Release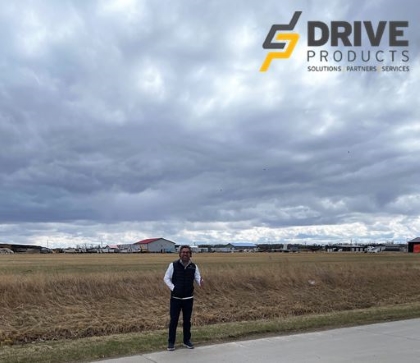 Copy
DRIVE PRODUCTS EXPANDS INTO WINNIPEG, MANITOBA
We are excited to announce our expansion and return to the province of Manitoba by securing a brand-new facility in Winnipeg. Drive Products has a rich history in the Manitoba market since our beginnings in 1983. More recently we have supported the Manitoba market through our local distribution partners.
Drive Products–Winnipeg is a key addition to our national footprint. We are now represented from coast-to-coast with brick and mortar locations in all industrial regions of Canada thus completing "The Map". As a major transportation hub in Canada and the "Gateway to the West", Winnipeg has always been a strategic market for Drive Products dating back to the late 80's when we first opened up a local branch. We're thrilled to be back providing better coverage, support, and new products to our local and national customers.

Copy
We're excited to announce the launch of WORKREADYDY.COM our brand new website 
The launch of this website culminates and epitomizes Drive Products commitment and investment into a united and innovative national work ready trucks program.
Providing enhanced visibility to the work ready trucks we build for the many market segments and industries we build them for...WORKREADYDP.com will serve as an online platform that will bring truck dealers and end-users to a place where they will find turnkey information on work ready trucks and aide in the process of the buying and selling upfitted commercial vehicles.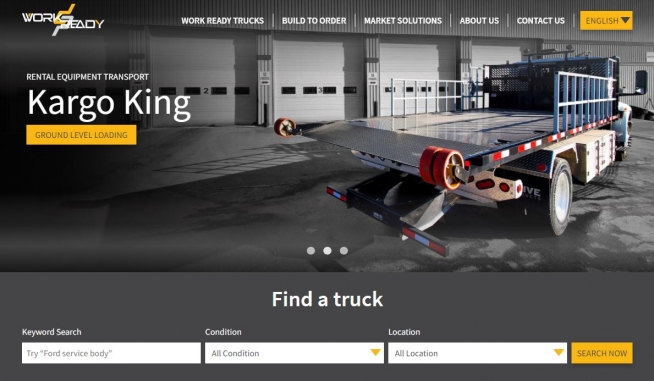 NEW GROWTH COMING FOR DRIVE PRODUCTS REGINA 
We are excited to announce that Drive Products has acquired 5 acres of prime industrial land in Regina, SK. Located in the Sherwood business park, this newly acquired land will allow for the expansion of our existing Regina branch and will also serve as the future home of our new Voth Western Canada Manufacturing Centre. The expanded Drive Products: Regina will be a full spectrum operation, housing our Manufacturing, Upfitting and Distribution Operations.
In addition to offering the full suite of products and services currently offered by Drive Products, Drive Products: Regina will serve as "Voth West". The Voth Western Canada Manufacturing Centre will manufacture a mix of truck mounted equipment with strong demand in Western Canadian markets while also providing the additional manufacturing capacity to support current growth rates. By securing this land, Drive Products continues its commitment to our strong Western Canadian customer base. Additionally, this expansion represents a continued investment in our future in the West. We look forward to bringing you updates as the project continues to take shape.
Click here for the: Official Press Release 
DRIVE PRODUCTS RETURNS TO REGINA, SASKATCHEWAN AND ACQUIRES DYNAMIC MOBILE POWER SOLUTIONS
We are pleased to announce that Drive Products has acquired Dynamic Mobile Power Solutions in Regina, Saskatchewan.
This new and exciting opportunity allows Drive Products to return to the province of Saskatchewan and be reunited with some familiar faces. Operating out of Dynamic's existing facility, we will continue to support their valued customer base as a Drive Products branch. Some of those familiar faces are Pat Buxton, Darren Loydl, and Murray Wingrove who will continue in their current roles and assist in the transition and integration into Drive Products.
Drive Products-Regina is well positioned, with core competencies in PTO, Hydraulics, Bulk Transport and Driveline Manufacturing. As we settle into Regina, our team plans to further develop traditional line business and integrate our diversified truck equipment mix into the branch offering, including our family of manufactured Dump Bodies, Decks, Chipper Bodies, Service Bodies and Roll-Offs and premium truck equipment lines (Crane, Tow & Recovery, Aerial, Snow & Ice, among others).
Drive Products-Regina is an important addition to our growing national footprint. As our representative location in the province of Saskatchewan, Drive Products-Regina will extend our support to our national accounts while also providing improved support for our regional customer base in Saskatchewan.
Click here for the: Official Press Release 
Copy
Robert Edmonds – President & COO of Drive Products visits the Drive Products Global Distribution Center in Mississauga, ON.
Global Distribution Center customers have kindly shared letters of appreciation with our team and Robert had the opportunity to meet with the GDC team to share these notes.
A big thank you to our GDC team for keeping products shipping nationwide to our valued customers and Drive Products branches across Canada.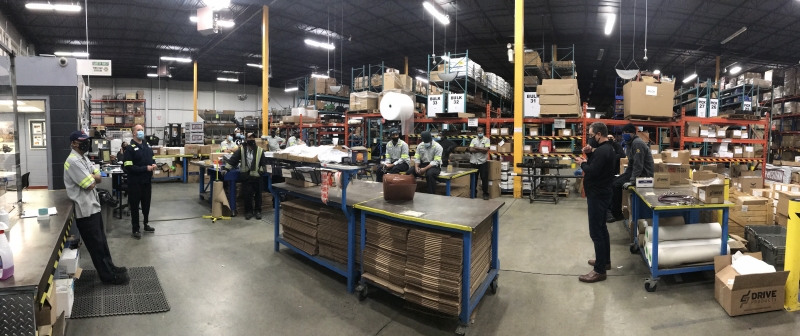 Kargo King Roll-Off System Announces International Distributor Agreement with Truck Hydraulic Solutions in Australia
Kargo King Roll-Off Systems is pleased to announce our International distributor agreement with Truck Hydraulic Solutions in Australia.
Truck Hydraulic Solutions is a growing National company with sales & service workshops in Sydney, Melbourne and Brisbane, specialising in the design, supply, fitment and commissioning of hydraulic systems. Quality for THS means aligning themselves with quality manufacturers such as OMFB PTO's, pumps and valves, Di Natale Bertelli underbody cylinders, Hidromas trailer cylinders and OMSI split shaft units and heavy-duty clutch drives.
UPDATE: GWA MANUFACTURING AND DRIVE PRODUCTS NATIONAL FLEET UPFITTING FACILITY
Since Fall 2019, the GWA team has been managing a building expansion project at the Windsor manufacturing and upfitting facility. With the intention to increase manufacturing space, and integrate Drive Products upfitting, this expansion aimed to double the existing footprint at that location with an additional 40,000 sq. ft.

To read the full Press Release, click here
Copy
MAKING ROOM FOR THE FUTURE
Today our President, Robert Edmonds, and the Voth family are pleased to announce the purchase of approximately 25 acres of future development land adjacent to our current Voth Truck Bodies manufacturing operations in Courtland ON.
Copy
INTRODUCING DRIVE PRODUCTS OTTAWA
We are excited to announce our new Drive Products branch in the nation's capital of Ottawa, Ontario.
The Drive Products Ottawa Location will serve customers in Ottawa, Gatineau QC and the surrounding regions. Drive Products Ottawa sits on 25,000 sq. feet at: 1611 Liverpool Court, Ottawa ON
 
Read the full Press Release, click here: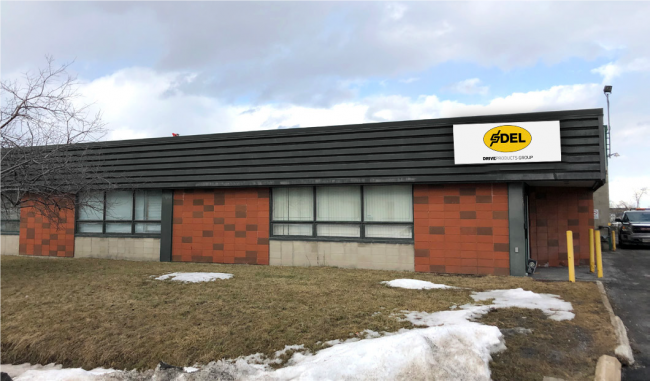 DRIVE/DEL UPFITTING NEWMARKET TEAM IS MOVING INTO A NEW FACILITY
Drive Products - DEL upfitting team in Newmarket will be temporarily closing operations for 1 week starting Monday June 8th, 2020. We will be completing our move into our brand-new facility at:
100 Harry Walker Parkway N, Newmarket, ON.
During this time, all operations related to installation, manufacturing, service, shipping and receiving will be unavailable. We thank you for your continued support and look forward to supporting you from our new location beginning June 15th,2020. For more information please see branch key contacts below:
Ivan Valverde – Inside Sales – ivalverde@driveproducts.com
Click here for the: Official Press Release 
DRIVE PRODUCTS ANNOUNCES MERGER WITH DEL EQUIPMENT INC.

Robert Edmonds, President and COO of Drive Products, and Paul Martin, President of Del Equipment today are pleased to announce the purchase and sale of DEL Equipment's business operations across Canada. The result of this merger will be historical, and we will see the establishment of the largest truck upfitting operation in Canada. DEL with a history of 75 years and DPI with 37 years of history creates an industry presence, leading to opportunities and capabilities developed by both companies for the truck upfitting industry. This merger will create greater truck upfitting capacity in Canada for Drive Products,  and span light duty, through medium duty and into the heavy-duty class 7 and 8 truck marketplace. Essentially, if you have a truck that needs upfitting to do work, no matter what size, we can "Do It".
 
To read more about this merger, click here.
Copy
PRESS RELEASE: DRIVE PRODUCTS ANNOUNCES TWO NEW LOCATIONS IN ATLANTIC CANADA AND WISCONSIN, USA
Click here to read the Full Press Release